Answer
Initially one or more sharply defined, light brown, flat lesions develop with a velvety to finely verrucous surface. They arise on normal skin. Their initial size is usually less than 1 cm, but the lesions can grow to several centimeters or more. With time, the lesions become thicker and have an appearance of being stuck on the skin surface.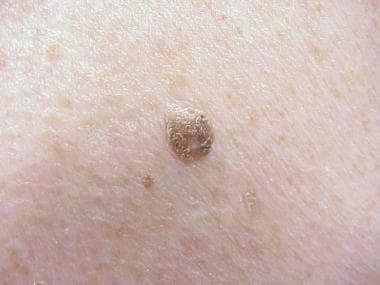 Seborrheic keratosis showing lackluster surface and appearance of being stuck on the skin surface.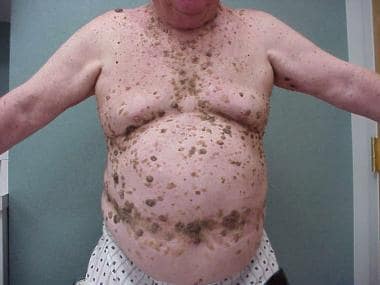 This is an autosomal dominant form of multiple seborrheic keratoses. This man's daughter is developing a similar distribution and quantity of seborrheic keratoses.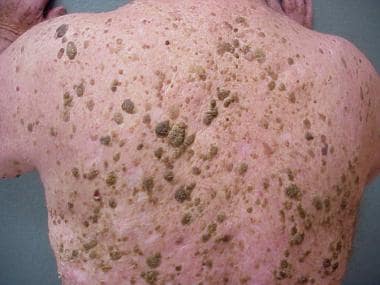 The back of this same patient as in the image above with multiple seborrheic keratoses. His face had a similar number of seborrheic keratoses.
Fully developed seborrheic keratoses often are deeply pigmented and do not reflect light.
Many lesions show keratotic plugging of the surface.
Some lesions are covered by an adherent greasy-appearing scale and are raised above the surface of the skin. Seborrheic keratoses can feel soft and greasy.
The shape is round to oval, and multiple lesions may be aligned in the direction of skin folds.
The smallest lesions are placed around follicular orifices, especially on the trunk.
Most seborrheic keratoses have fewer hairs than the surrounding skin.
Sometimes the lesions can grow large, with individual seborrheic keratoses reaching many centimeters in size.
---
Did this answer your question?
Additional feedback? (Optional)
Thank you for your feedback!