Answer
Sebaceous hyperplasia is often found incidentally upon examination. The classic appearance of facial sebaceous hyperplasia on physical examination reveals whitish-yellow or skin-colored papules that are soft and vary in size from 2-9 mm. These papules have a central umbilication from which a very small globule of sebum can sometimes be expressed. Some papules may be associated with characteristics similar to basal cell carcinoma, such as telangiectasia.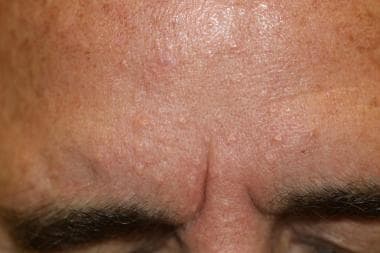 Typical distribution of sebaceous hyperplasia on the forehead in a middle-aged male.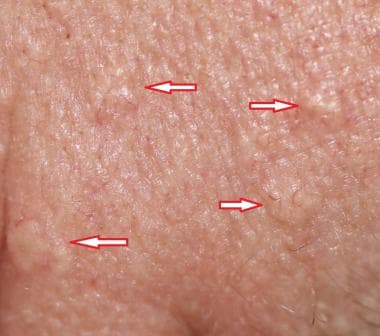 Close-up of typical sebaceous hyperplasia on the face (red arrows).
Depending on the variant, sebaceous hyperplasia may be found singularly, grouped (as in the nevoid and linear form), diffuse, or extensive. Juxtaclavicular beaded lines are an additional variant characterized by closely placed papules arranged in parallel rows within the skin of the neck and overlying the clavicle. [27]
---
Did this answer your question?
Additional feedback? (Optional)
Thank you for your feedback!