Answer
Examination reveals dermal mast cell infiltrates, especially in the papillary dermis around blood vessels (see image below).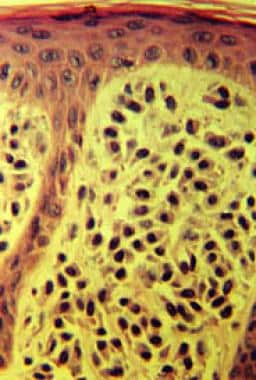 Hematoxylin and eosin stain revealing mast cells in the papillary dermis.
Diagnosis of urticaria pigmentosa may require demonstration of mast cell granules using Giemsa stain (see image below) or toluidine blue stain. The Leder stain is not dependent on intact mast cell granules.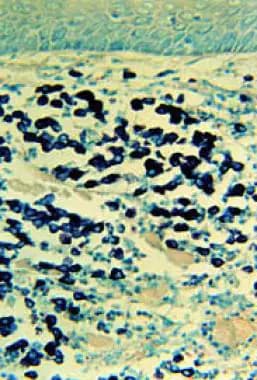 Giemsa stain revealing mast cells.
Mast cell nuclei are round with surrounding ample cytoplasm producing a "fried egg" appearance. The typical presentation of mast cells is a single nuclei, yet there have also been atypical histological findings reported in four patients with uriticaria pigmentosa that showed mast cells with bilobed and multilobed morphology. [40] In telangiectasia macularis eruptiva perstans (TMEP), mast cells are brick shaped or spindle shaped. In nodular urticaria pigmentosa, mast cells are observed in dense aggregates and may extend through the entire dermis and into subcutaneous tissue. If the lesion from which the biopsy specimen was taken was traumatized during harvest, edema and eosinophil infiltrates may be present. The hyperpigmentation of cutaneous mastocytosis is secondary to increased melanin in the basal cell layer and melanophages in the upper dermis.
Planar xanthoma has been described in association with mastocytomas.
---
Did this answer your question?
Additional feedback? (Optional)
Thank you for your feedback!