Answer
On microscopy, a pseudocyst with a fibrous capsule and myxomatous stroma with scattered fibroblasts is seen. A partial mesothelial lining, but not a true cyst wall, may be found. The overlying surface epithelium demonstrates compact hyperkeratosis with a collarette of hyperplastic epidermis. The mucinous contents stain basophilic with hematoxylin and eosin and can be seen clearly when stained for acid mucopolysaccharides with colloidal iron or Alcian blue. Note the image below.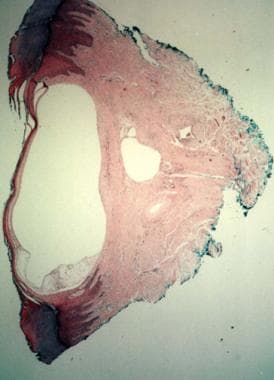 Histopathology of digital mucous cyst.
On scanning electron microscopy, a porous network of collagenous fibers form the cyst wall and a fibrillated inner surface composed of a random arrangement of collagen fibers is observed. An intermittent thin membrane occurs on the inner surface, but no evidence of a cellular lining is apparent.
---
Did this answer your question?
Additional feedback? (Optional)
Thank you for your feedback!