Answer
The typical appearance of erythrasma is well-demarcated, brown-red macular patches. The skin has a wrinkled appearance with fine scales (see the image below).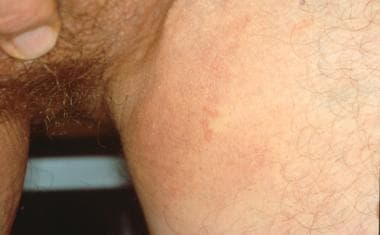 Lichenification and hyperpigmentation are common. The skin occasionally has a wrinkled appearance with scales. KOH test results are negative. Courtesy of Michael Bryan, MD.
---
Did this answer your question?
Additional feedback? (Optional)
Thank you for your feedback!