Answer
Wood light examination of erythrasma lesions reveals coral-red fluorescence of lesions. Results may be negative if the patient bathed prior to presentation. [31] Note the image below. The cause of this color fluorescence has been attributed to excess coproporphyrin III synthesis by these organisms, which accumulates in cutaneous tissue and emits a coral-red fluorescence when exposed to a Wood light. [32]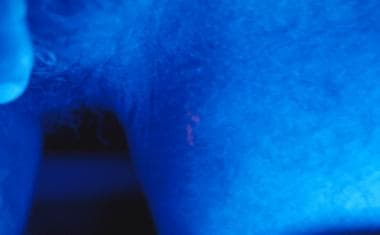 Under Wood lamp examination, the porphyrins produced by the bacteria fluoresce with a coral pink color. A small focus is visible on this photo. If the patient recently has bathed, the pigment may be washed away. In suspicious cases, a repeat examination the following day may be necessary. Courtesy of Michael Bryan, MD.
---
Did this answer your question?
Additional feedback? (Optional)
Thank you for your feedback!