Answer
Drug eruptions can mimic a wide range of dermatoses. They may be related to traditional pharmaceutical agents, biologic agents and targeted immunotherapeutic agents, food additives, and dyes. [1, 2, 3, 4, 5] The morphologies are myriad and include morbilliform (see the image below), urticarial, papulosquamous, pustular, and bullous. Medications can also cause pruritus and dysesthesia without an obvious eruption. A drug-induced reaction should be considered in any patient who is taking medications and who suddenly develops a symmetric cutaneous eruption. Morbilliform eruption localized to striae has been described with clindamycin. [6]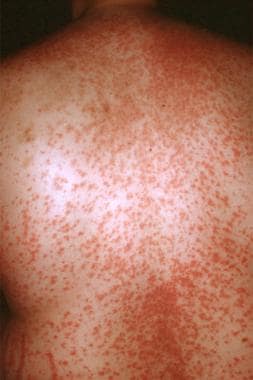 Morbilliform drug eruption.
---
Did this answer your question?
Additional feedback? (Optional)
Thank you for your feedback!