Answer
For piriformis injection under ultrasonographic guidance, a linear ultrasound probe is positioned with its lateral side medial to the greater trochanter and its medial side lateral to the ischial tuberosity. [8, 11] In this position, the sciatic nerve is identified as an oval honeycombed structure with mixed echogenicity. The sciatic nerve is then followed cephalad until it courses beneath the piriformis and deviates medially toward the sacrum. (See the image below.)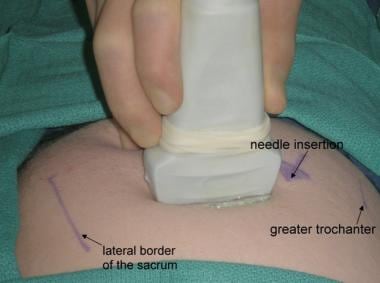 Ultrasound-guided piriformis injection. Greater trochanter and lateral border of sacrum are identified. Ultrasound probe is directed parallel to piriformis. Needle is inserted in lateral third of piriformis.
Once the relation between the sciatic nerve and the piriformis has been determined, an entry point is identified on the piriformis lateral to this intersection. At this point, the linear probe is positioned parallel to the piriformis fibers in such a way that the needle is in an in-plane orientation. The gluteus maximus and the piriformis are visualized and demarcated by a sheath that appears as a hyperechoic band (see the image below).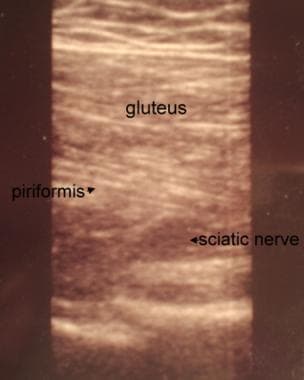 Ultrasonogram identifies sciatic nerve, gluteus, and piriformis.
The needle is then advanced under ultrasonographic visualization, traversing the gluteus maximus and piercing the piriformis.
---
Did this answer your question?
Additional feedback? (Optional)
Thank you for your feedback!