Answer
Vasculitis is defined as inflammation of blood vessels. It may result in vessel wall thickening, stenosis, and occlusion with subsequent ischemia. Necrotizing inflammation can completely destroy segments of the wall. Vasculitis can involve vessels of any size and can affect any organ system. The clinical presentation varies according to the histologic type of inflammation, the size of the involved blood vessel segment, and the distribution of the involved vessels.
Many subtypes of vasculitis are recognized. This article focuses on the primary systemic vasculitides of childhood. The most common forms of systemic vasculitis in children are Henoch-Schonlein purpura (HSP) and Kawasaki disease (KD). Other subtypes of primary childhood vasculitis are much rarer. Vasculitis can also occur secondary to another disease, and this should be ruled out. Diseases associated with secondary vasculitis include infection, malignancy, collagen vascular disease (eg, systemic lupus erythematosus, dermatomyositis), and drug hypersensitivity. See Differentials.
The image below depicts nodules in cutaneous polyarteritis nodosa (PAN), a systemic vasculitis characterized by necrotizing inflammatory lesions that affect medium-sized and small muscular arteries.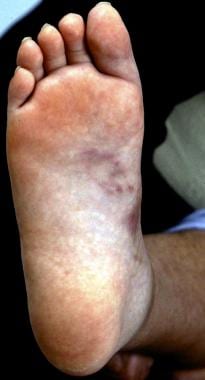 Nodules on sole of foot in cutaneous polyarteritis nodosa (PAN).
See Vasculitis: Case Presentations, a Critical Images slideshow, for more information on clinical, histologic, and radiographic imaging findings in various forms of vasculitis.
---
Did this answer your question?
Additional feedback? (Optional)
Thank you for your feedback!