Answer
MRI is helpful when considering trauma in the differential diagnosis. In addition, imaging of the TMJ, sacroiliac joint, cervical spine, midfoot, hip, or shoulder is useful in diagnosing inflammatory arthritis. (See the image below.)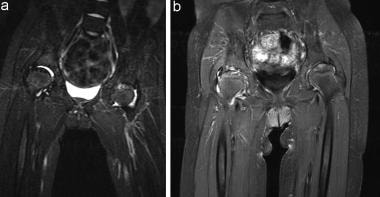 (A) T2-weighted MRI shows high signal in both hips, which may be due to hip effusions or synovitis. High signal intensity in the left femoral head indicates avascular necrosis. (B) Coronal fat-saturated gadolinium-enhanced T1-weighted MRI shows bilateral enhancement in the hips. This indicated bilateral active synovitis, which is most pronounced on the right. Because the image was obtained with fat saturation, the hyperintensity in both hips is pathologic, reflecting an inflamed pannus.
MRI provides the most sensitive radiologic indicator of disease activity. The modality can depict synovial hypertrophy, define soft tissue swelling, and demonstrate excellent detail of the status of articular cartilage and overall joint integrity. [23, 24, 25, 26, 3, 4, 5, 27, 28]
---
Did this answer your question?
Additional feedback? (Optional)
Thank you for your feedback!