Answer
Older children with RF-positive polyarticular JIA should probably be screened yearly. There are few data on these children regarding their risk for uveitis.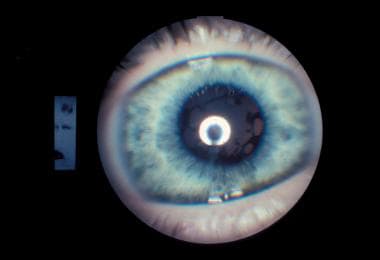 Sequelae of chronic anterior uveitis. Note the posterior synechiae (weblike attachments of the pupillary margin to the anterior lens capsule) of the right eye secondary to chronic anterior uveitis. This patient has a positive antinuclear antibodies (ANAs) and initially had a pauciarticular course of her arthritis. She now has polyarticular involvement but no active uveitis. Image courtesy of Carlos A. Gonzales, MD.
---
Did this answer your question?
Additional feedback? (Optional)
Thank you for your feedback!