Answer
In 1987, during the early stages of laparoscopic and minimally invasive surgery, the creative mind of a pediatric surgeon from Virginia, Donald Nuss, MD, challenged the surgical dogma. [10] Nuss performed the first minimally invasive operation for the correction of pectus excavatum. Not until May of 1997 was this new and innovative technique introduced to the American Pediatric Surgical Association and, subsequently, published in the Journal of Pediatric Surgery. Because of the excellent results obtained with this new technique and because of the less radical nature of the operation, the popularity of this technique has grown dramatically. The images below illustrate the preoperative and postoperative appearance of the chest in a female and male patient after minimally invasive repair.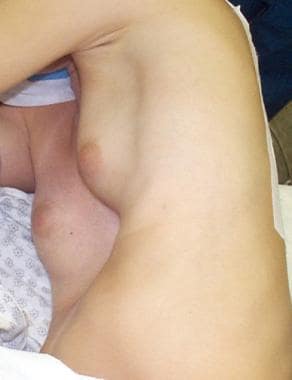 A 12-year-old girl with severe pectus excavatum. Note the significant asymmetry of the breasts. Preoperative photograph.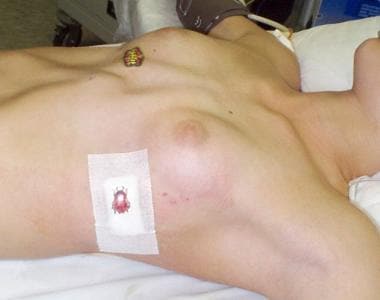 A 12-year-old girl with severe pectus excavatum immediately after minimally invasive repair. Note the immediate correction of the deformity.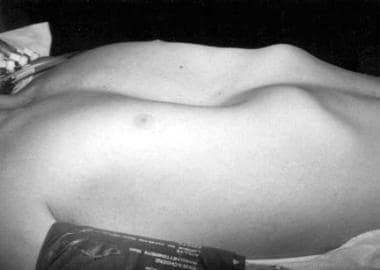 Preoperative photograph of a 12-year-old boy prior to minimally invasive repair of pectus excavatum.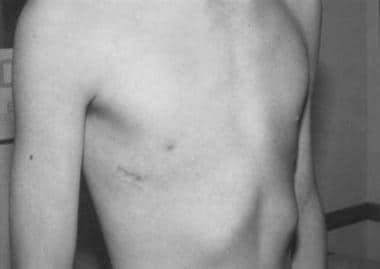 A 12-year-old boy 2 weeks after minimally invasive repair of his pectus excavatum. Note the small lateral chest wall incision and the excellent appearance of the anterior chest with 100% correction of the pectus deformity.
---
Did this answer your question?
Additional feedback? (Optional)
Thank you for your feedback!