Answer
The image below is an illustration of another open operative technique used rarely today, the so-called "sternal turn-over operation."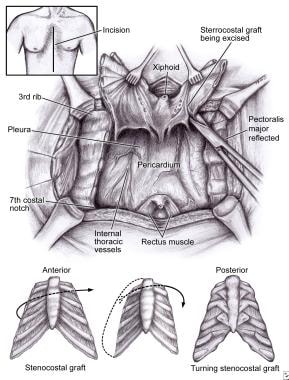 Operative diagram illustrating one of the open techniques for correction of pectus excavatum. The drawing is of the so-called "turn-over operation" for repair of pectus. It shows the extensive dissection and the radical nature of this open technique for surgical correction of this congenital chest wall deformity.
---
Did this answer your question?
Additional feedback? (Optional)
Thank you for your feedback!