Answer
Until the mid-1990s, the operative treatment of pectus excavatum had been fairly well standardized and was based on the open operation originally described by Ravitch in 1949. [9] Few variations to his original description have been added, and the operation became almost universally accepted by pediatric surgeons as the standard for treatment of this condition.
Several published series demonstrated excellent results with low complication rates despite the fairly radical nature of the Ravitch operation, which required anterior chest wall exposure, creation of muscle and skin flaps, extensive cartilage resection, and sternal osteotomy. The images below are operative photographs of the open Ravitch technique for pectus excavatum repair. The surgical exposure of the anterior chest wall, creation of skin and muscle flaps, and resection of the affected cartilages and sternal osteotomy are visible.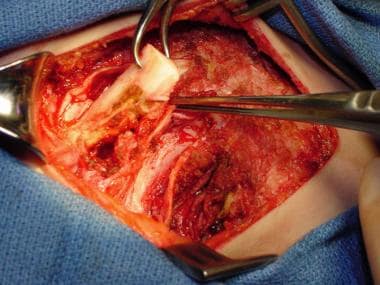 Operative photograph of the open Ravitch technique for repair of pectus excavatum. The anterior chest is exposed through an anterior thoracic incision and, after raising muscle and skin flaps, each involved cartilage is excised with preservation of the perichondrium. The picture shows one of the cartilages being removed.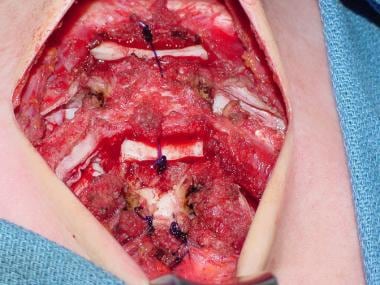 Operative photograph of the completed Ravitch procedure for correction of pectus excavatum. Note the sternum fractured at 2 different points with a cartilage graft in place to maintain its new position. The involved ribs underwent perichondrial excision. The deformity is completely corrected.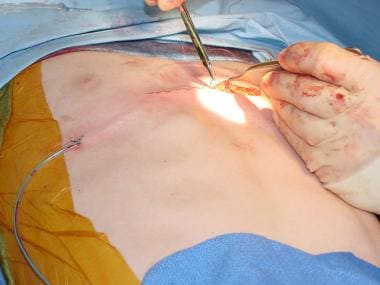 Closure of the anterior chest wall incision used for the open type of repair of pectus excavatum (Ravitch operation). Note the drain (small tubing) coming out on the side of the chest. Drains are typically removed after 2-3 days, and they prevent the accumulation of fluid under the skin and muscle flaps created at the time of surgery.
---
Did this answer your question?
Additional feedback? (Optional)
Thank you for your feedback!