Answer
This is useful in determining the Haller index, which is derived by dividing the transverse chest diameter by the anteroposterior diameter. A Haller index of ≤ 2.5 in normal. An index of more than 3.2 has been correlated with a severe deformity that requires surgery. The author's experience has demonstrated that the chest index can also be obtained with plain anteroposterior and lateral chest radiography. However, this is not as precise as the measurements obtained from CT scanning.
CT scanning can provide helpful information related to the commonly seen asymmetry of the chest in patients with pectus excavatum. It also clearly reveals the displacement and rotation of the heart. Recent studies have demonstrated that the severity of the pectus excavatum deformity (as detected by the CT scan) directly correlates with the degree of restrictive lung disease caused by the pectus excavatum.
In cases with significant asymmetry, CT scanning can provide valuable information for planning the operative intervention and can also provide helpful information regarding the asymmetric volume difference between the right and left hemithorax. Many patients with pectus excavatum have some degree of rib hypoplasia, which may cause one hemithorax to be much smaller than the other. This typically cannot be corrected by surgery.
The image below is a CT scan of a young patient with severe pectus excavatum.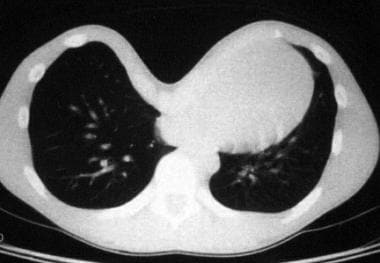 Preoperative CT scan of the chest of 12-year-old girl with severe pectus excavatum (see Media file 5). Note the severe pectus excavatum with compression of the lung fields and complete displacement of the heart and mediastinal structures to the left hemi-thorax.
---
Did this answer your question?
Additional feedback? (Optional)
Thank you for your feedback!