Answer
Pectus excavatum, also known as sunken or funnel chest, is a congenital chest wall deformity in which several ribs and the sternum grow abnormally, producing a concave, or caved-in, appearance in the anterior chest wall. The image below illustrates the typical appearance of this deformity in a 16-year-old boy.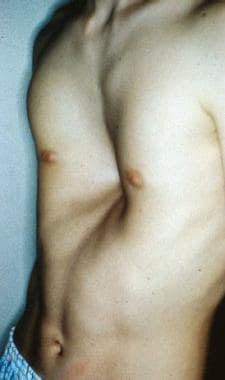 A 16-year-old boy with severe pectus excavatum. Note the appearance of the caved-in sternum and lower ribs.
---
Did this answer your question?
Additional feedback? (Optional)
Thank you for your feedback!