Answer
Uvulopalatopharyngoplasty (UPPP [ie, UP3]) is not commonly performed in children. During the procedure, the uvula, posterior margins of the soft palate, and lateral pharyngeal wall mucosa are removed via scalpel or laser ablation. UPPP surgery is likely to be successful in relieving obstructive sleep apnea only if the major site of obstruction is localized to the soft palate. This surgery carries a risk of velopharyngeal insufficiency, which may be increased among pediatric patients. Although UPPP may effectively eliminate most snoring, the procedure does not always cure obstructive sleep apnea. Follow-up polysomnography 2-3 months after surgery is warranted to reassess for residual apnea.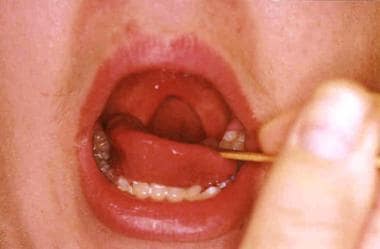 Palate appearance following uvulopalatopharyngoplasty (UPPP) surgery.
Go to Surgical Approach to Snoring and Obstructive Sleep Apnea for complete information on this topic.
---
Did this answer your question?
Additional feedback? (Optional)
Thank you for your feedback!