Answer
Currently, the only available tool for definitive diagnosis of obstructive sleep apnea is an overnight polysomnographic evaluation in the sleep laboratory. An overnight polysomnographic study usually includes multiple channels that aim to monitor sleep state, as well as cardiac and respiratory parameters (see the images below).
Nasopharyngoscopy or direct laryngoscopy and bronchoscopy may be required to determine anatomy prior to contemplated otolaryngologic surgery.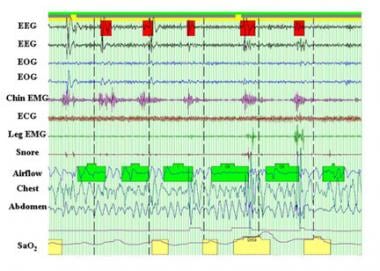 Compressed overnight polysomnography tracing of a 6-year-old boy who snores, showing multiple events of obstructive apnea (green-shaded areas) associated with oxyhemoglobin desaturation (yellow-shaded areas) and EEG arousals (red-shaded areas).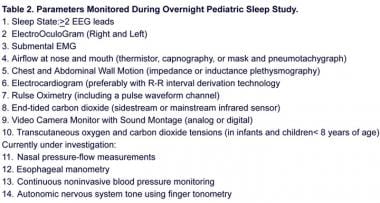 Parameters monitored during an overnight pediatric sleep study.
---
Did this answer your question?
Additional feedback? (Optional)
Thank you for your feedback!