Answer
Many authors distinguish spontaneous pneumomediastinum as a form of pneumomediastinum that is not associated with blunt force or penetrating chest trauma, endobronchial or esophageal procedures, neonatal lung disease, mechanical ventilation, or chest surgery or other invasive procedures. Because of the infrequent occurrence of pneumomediastinum, the literature relating to pneumomediastinum involves individual case reports or small case series and is retrospective in nature.
The following images demonstrate radiographic findings in patients with pneumomediastinums.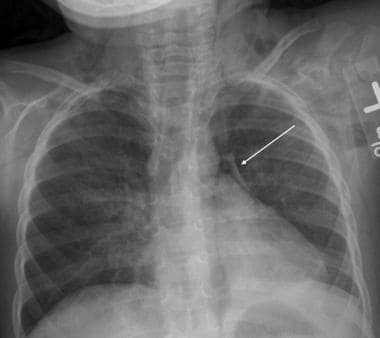 This chest radiograph (posteroanterior and lateral view) is from a 3-year-old girl with a history of prematurity, chronic lung disease, and asthma who presented with a viral pneumonitis and persistent cough. On the posteroanterior view, a pneumomediastinum (arrow) is noted. Also, extensive subcutaneous air is observed.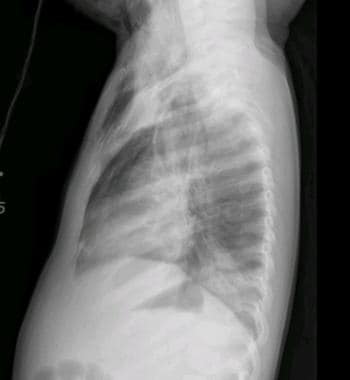 On the lateral radiograph from the patient in Media file 2, anterior mediastinal air is observed. Left lower lobe atelectasis is also present. The child was asymptomatic and was discharged 2 days later.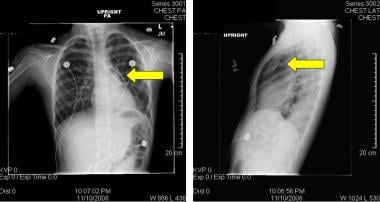 Chest radiographs in anteroposterior (AP) and lateral projections obtained in a 9-year-old girl with wheezing and pneumonitis. The arrows highlight the "spinnaker sail sign" in which free mediastinal air lifts the thymus off of the heart and major vessels.
---
Did this answer your question?
Additional feedback? (Optional)
Thank you for your feedback!