Meeting Highlights at a Glance

Top News Stories From the 2011 EMCC
Research presented included practice-changing results from a large number of late-breaking phase 3 clinical trials, including SECRAB, BOLERO-2, and a study of the investigational radiopharmaceutical radium-223 chloride in prostate cancer.


Oncology Insights: The Wrap-up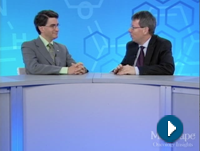 EMCC Wrap-up: mTOR and More
Drs. David Kerr and Jean-Charles Soria discuss the highlights of the EMCC meeting, focusing on practice-changing trials.



Medscape Oncology©  WebMD, LLC
Medscape Oncology Insights
Pre-Meeting Expert Commentary

Preview of Practice-Changing Data From ECCO/ESMO
David J. Kerr, MD