The City of Manchester, New Hampshire, has noted an increase in overdoses possibly related to a synthetic marijuana product.
The composition of this product is not well-elucidated yet, but it appears to be available over the counter, marketed as a potpourri called "Smacked" which comes in three flavors: blueberry, bubble gum, and lemon-lime.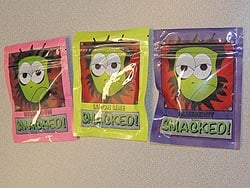 Source: New Hampshire Department of Health and Human Services
Patients reported smoking this product, although the packaging states "not for human consumption."
Investigation is in early stages, but initial clinical reports include severe altered mental status.
Efforts are ongoing to remove this product from markets statewide.
Report to New Hampshire Division of Public Health Services at 603-271-4496 (after hours 1-800-852-3345, ext. 5300) any suspected patients who may have experienced adverse health effects from this or a similar product.
For the most current guidance regarding clinical management, call the Northern New England Poison Control Center at 1-800-222-1222.
The New Hampshire Division of Public Health Services, working with other partners including the City of Manchester, the Poison Control Center and the Governor's Office, will provide more information as it becomes available.