Dear Medscape Readers,
I'd like to review with you 2 areas of medicine that have been receiving noteworthy attention in recent weeks.
Three Rapid-Fire Announcements
Digital health took center stage with 3 rapid-fire announcements by Samsung, Apple, and Google -- all within 2 weeks -- of their new platforms that track health and medical data. Whether the data are displayed on a smartphone screen or watch, the commitment of some of the world's top technology companies to aggregate data on activity, heart rate, blood pressure, glucose, and an expanding list of physiologic metrics is noteworthy.
It further represents the convergence of the tech and medical sectors. This "managed competition" should accelerate the era of patient-generated data. Furthermore, beyond aggregating data, these companies are developing sensors and hardware to provide innovative means of tracking medically relevant information. A big challenge for the tech companies is to make this practical, interoperable, and user-friendly for physicians and health systems. Reciprocally, it will be interesting to see how physicians and health systems adapt to this new workflow and torrent of data coming from patients.
Which brings me to another point about adapting to the changes induced by medicine going digital. I prepared the graph below to show where we stand, adapting a general industry graph template by McKinsey.[1] It's still early in a major disruptive time in medicine, where incumbents will be further challenged. As you well know, there is major consolidation in health systems to adapt to the marked reduction in reimbursement accompanying the Affordable Care Act. Many innovative startups have come on the scene, running the gamut from sensors to telemedicine. There have been several early adopters of digital technology, such as Intermountain, Kaiser Permanente, and medical practices like One Medical. And some of the incumbents, like Mayo Clinic, are starting to adapt, evidenced by their partnership with Apple on the HealthKit tracking platform. But there's plenty more change and disruption ahead. An alternative view, as articulated in the recent New Yorker piece by Jill Lepore,[2] challenges whether there really is disruptive innovation at all!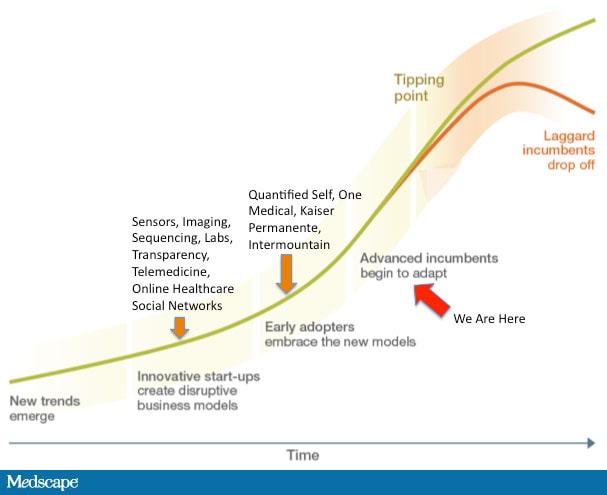 Two more quick points: If you haven't seen it, check out the new Medscape pill identifier, which can really come in handy when a patient doesn't know what medication or dose he or she is taking -- a common situation. And I would like to congratulate Medscape, which won a GOLD award in the 2014 Winter/Spring Web Health Awards competition for its Medscape Today page.