In-Person vs Virtual Office Visits
Third, and back to clinical reality, is the problem with office visits. A new study showed that the average wait time for a new patient to see a primary care doctor is longer than 2.5 weeks across the United States, and it appeared that Boston was an outlier at 66 days.[7] Also this month, Kaiser Permanente Northern California published a very interesting paper in Health Affairs[8] with the following graph (Figure):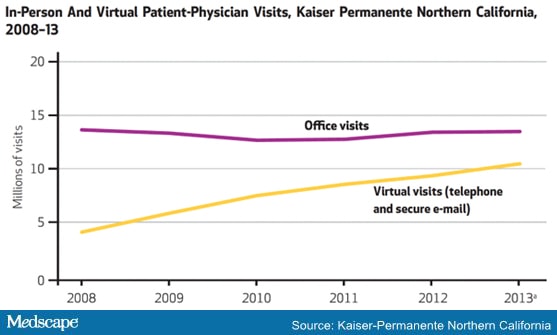 Figure. Source: Kaiser-Permanente Northern California
Published with permission of Project HOPE
Among Kaiser members, virtual visits are on a major upswing and in-person visits are flat. However, it has been projected that these lines will cross soon. Of note, the Kaiser data do not include any video visits, just emails and calls. Virtual visits are really taking off in many health systems and through a crop of companies, so it will be interesting to see what becomes of their upsurge, especially because multiple consumer polls in the United States show that patients overwhelmingly prefer virtual visits. Surely the wait times -- both to get an appointment and then to be seen at the time of the appointment -- are not working well overall.
That's it for now. I hope you have enjoyed the interviews with Robin Cook and Don Berwick. Stay tuned for a very interesting interview with Al Gore, coming in March.
I will continue to pull together a few items of interest each month, and I am glad to see an increasing number of you getting on Twitter (@EricTopol) for the rapid pulse of "what's up."
Eric J. Topol, MD
Editor-in-Chief, Medscape