Employed Doctors Report: Are They Better Off?
Leslie Kane, MA
March 11, 2014
More than 4600 doctors told us what they like and dislike about employment and whether they plan to remain in their current situation. Although there are plenty of benefits to being employed vs in private practice, there are some clear downsides. Doctors who had previously been in private practice told us whether they were glad they made the switch or whether they regret it.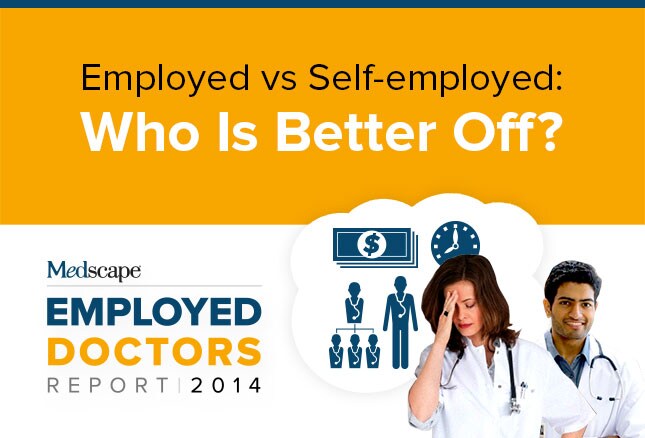 Among female physicians, more are employed than self-employed. The reverse is true for men; more male physicians are self-employed than employed.
Sue Cejka, Managing Partner at Grant Cooper Healthcare, a physician/executive recruitment firm based in St. Louis, Missouri, notes that the greater percentage of women who are employed is more related to age than gender, because there are more female doctors in the younger age category.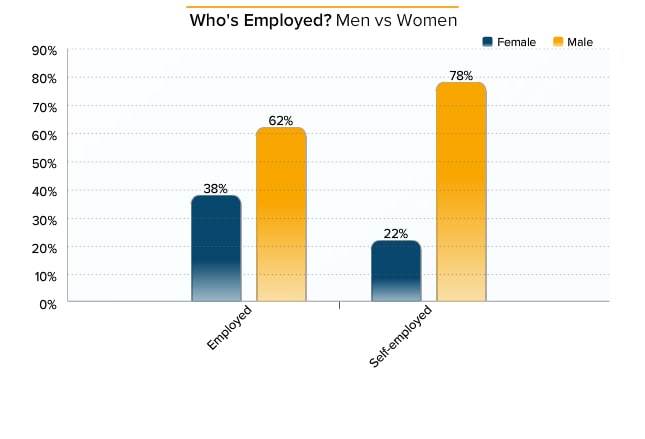 Clearly, the rise in employment is related to changes and trends in the healthcare industry. Looking at physicians under age 40, more than twice as many are employed vs self-employed. However, in the age group over 40, more physicians are self-employed.
The ideal of having a private practice is more prevalent among doctors who began practicing many years ago. Because of the changes in healthcare in recent years, it has become more and more difficult for physician practices to remain profitable while independent.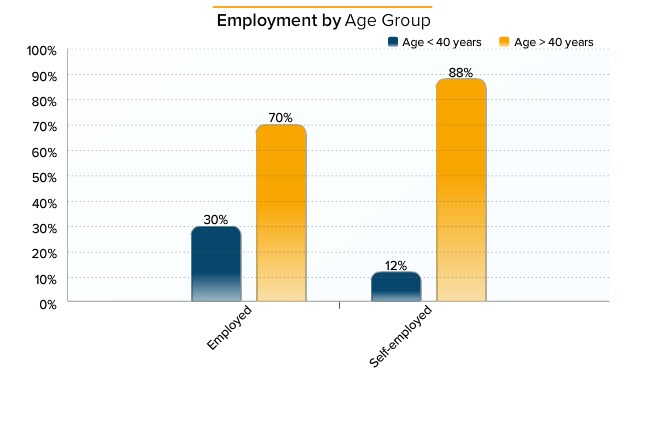 The grass often looks greener to doctors who switch from self-employment to employment, and vice versa. More than half (52%) of our self-employed respondents had previously been employed, while a smaller percentage (29%) of employed doctors had previously been owners or partners. Some doctors made the change because they thought they'd be better off, while others had little choice in the matter when the practice where they worked was acquired.
"A new wave of employment started about 9 years ago," says Cejka. "Many private physicians' practices were acquired by hospitals. Employment and consolidation continue to occur."
Additionally, more young physicians head right for employment. Being in private practice doesn't have the lure that it once did.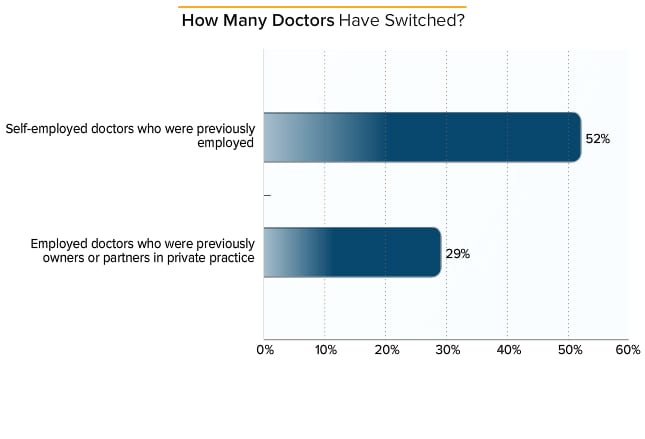 It's no surprise that about 49% of employed doctors are either working in a hospital or are in a group now owned by a hospital. "Multispecialty groups are a more natural alignment and a natural fit with part of large systems," says Cejka.
But other venues are also big employers. Approximately 21% of doctors are employed by private groups, typically large private groups with a few owners but also a number of employed physicians.
Other employment venues include community health centers, corporate laboratories, correction institutions, military bases, and nursing homes.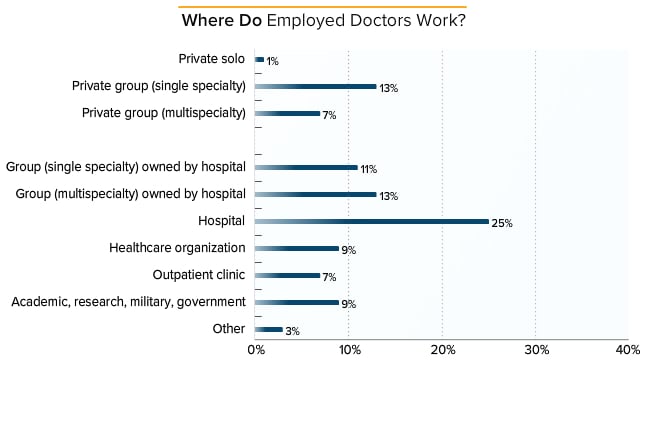 The financial challenges of private practice played a huge role in prompting more than a third of physicians (38%) to seek employment. Not having to worry about billing, office management, and administrative issues was the key motivator for about 29% of respondents, and working shorter and more regular hours had the strongest pull for 19% of employed doctors.
There are other reasons why doctors chose employment. Some respondents commented: "I believe that the employment model reduces profit incentive in providing care"; "I love academic medicine and research in addition to patient care."
Still, a large number of doctors had no choice in becoming employed. Representative responses: "My group was bought out"; "I had no say in the decision." A small group of respondents were more forthright: "It was stupidity"; "I was going broke."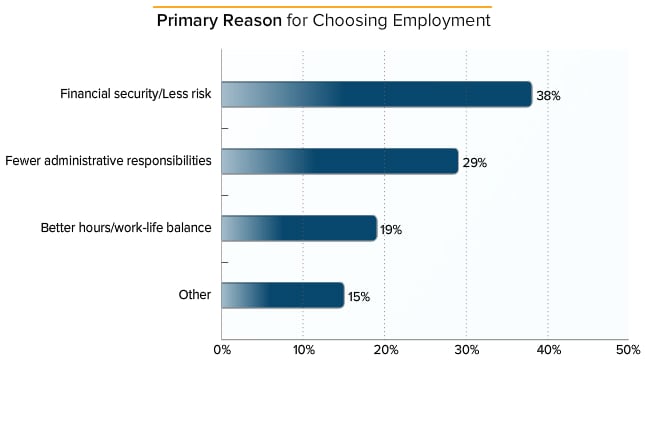 Employment has its benefits! We asked doctors to list their top 3. The major one, mentioned by 58% of physicians, was not having to run the practice. Another key benefit: being able to eliminate the aggravation of billing and collecting payments.
Of note, guaranteed income was not the primary benefit, although it still made the top 3.
Other benefits of employment: "academic opportunities"; "avoiding the financial ruin of Medicare and Medicaid"; "life-work balance: when I'm off, I'm off!"; "more vacation time and no loss of income during vacation"; "the chance to work with incredibly bright colleagues"; and "a chance to work with a world-class stroke team."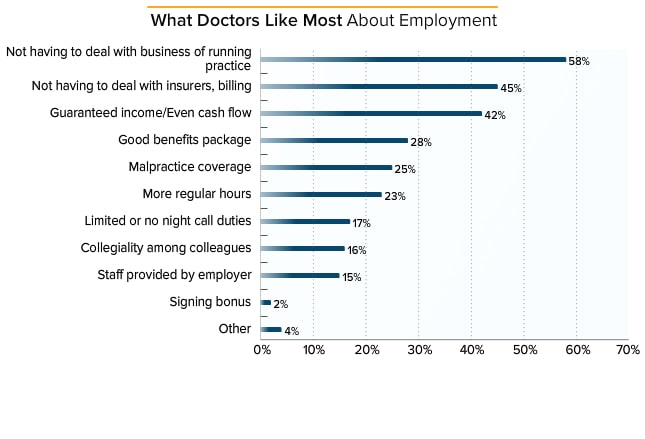 The positive aspects of employment have a flip side. Doctors gain security, but they're trading away control over their decisions, autonomy, and influence, and they're saddled with a plethora of new rules to follow.
Five of the top 6 reasons doctors gave for disliking employment had to do with loss of control over their work life: "the administration functions like the mafia"; "I could be let go at any time"; "I'm not really being bossed around, but I do have to kiss some butt"; "no control over the hiring or firing of support staff"; "zero input into management decisions."
"That is the biggest complaint we hear," says Tommy Bohannon, Divisional Vice President of Merritt Hawkins, a leading physician search firm. "I suspect that as years go by, we'll see more doctors reporting that they are satisfied in employed settings, because they didn't come in with a preconceived notion that it was going to be a nightmare. I think it's more the perception of loss of autonomy than the actual loss of autonomy. At the end of the day, doctors in private practice work for their payers and have all kinds of rules and restrictions, too."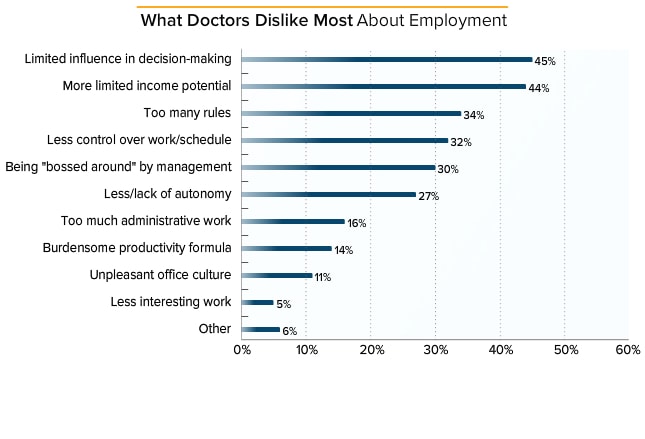 When it comes to overall satisfaction, employed and self-employed doctors are about equally satisfied.
Self-employed doctors have control but not security; employed doctors have ditched the unpleasant management responsibilities but also have less control over their work lives. Yet both groups seem satisfied with their situations. What accounts for that?
Quite possibly, each group gravitates toward the situation that is most in sync with their own personality or inner desires. Those who remain self-employed may have a stronger need to run their own practice, be in control, and not take orders. Those who enjoy employment may consider the lack of autonomy a definite downside, but not one that is critical to their ultimate satisfaction.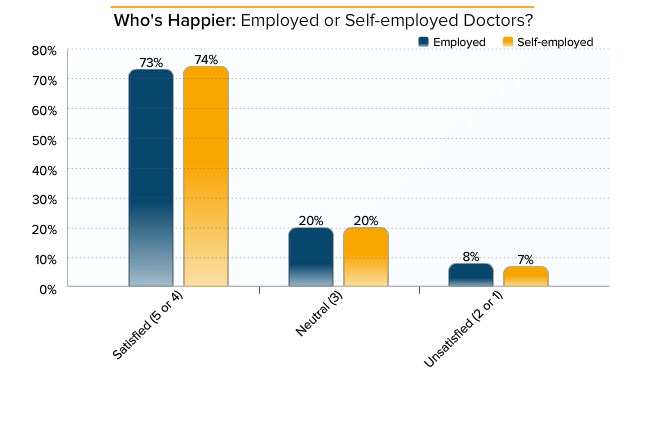 Self-employed doctors are somewhat more satisfied with their situation than are employed doctors, and slightly more employed doctors are unsatisfied with their situation than are self-employed doctors.
"I think that as doctors settle in with employment and start to realize that it's not as bad as they thought it would be, they accommodate," says Bohannon. "For most doctors in training today, the expectation is that they're going to work for someone and be an employee. Candidates in training now never view themselves as small business owners. Looking at alignment of expectations, you can find just as many doctors happy or unhappy in either setting. It depends on whom you ask. The point is, you should find the situation in which you are a round peg in a round hole and a square peg in a square hole."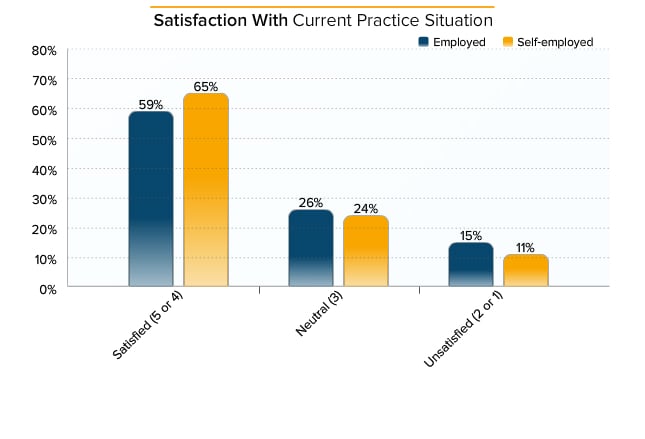 Often you only know in retrospect whether you made the right decision. How many physicians who switched from employment to private practice or vice versa felt that they made the correct choice?
About 70% of physicians who left employment in favor of self-employment are happier now. Only 9% who went to self-employment are unhappier now.
Sue Cejka gave another reason why some employed doctors may feel unhappier now. Although most probably expected to lose some autonomy and control, the reality is tougher than anticipated. "All humans think that if they move into a large organization, they'll get all the good things and none of the bad things," says Cejka. "Reality is different."
In contrast, less than half (49%) of physicians who left self-employment for employment are happier now, and a quarter (25%) are unhappier now. Those results fit with the knowledge that many physicians had no choice in becoming employed.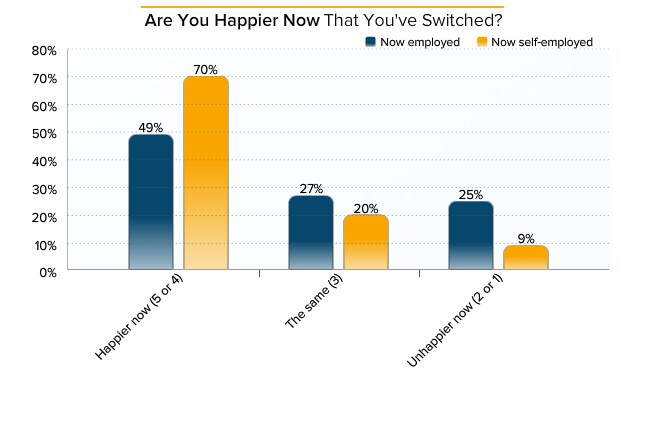 Despite the gripes that employed physicians have with their situation, almost two thirds would recommend it to other doctors. Complaints and dissatisfaction are outweighed by the positive factors of employment.
Self-employed physicians, not surprisingly, are much less likely to recommend employment while just about a third would recommend it, and another third is unlikely to recommend it.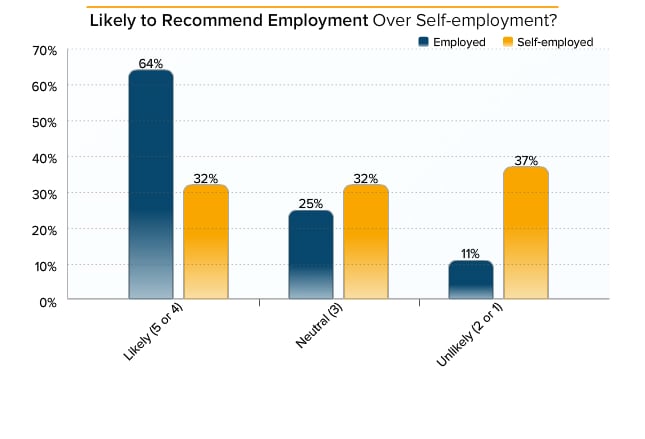 More than half (53%) of employed physicians who were previously self-employed felt that patient care was superior now that they were employed, although more than a third (37%) felt that it was about the same.
What could account for that? Some physicians previously self-employed in small practices may find that in hospitals or hospital-owned practices, the very rules that they find oppressive are also the ones that the hospital has established as mandatory safeguards. Because hospitals typically have patient safety and quality committees, it's likely that there are more safety measures in place than in some small or mid-size practices.
Still, plenty of errors occur in hospitals, and 10% of respondents who had changed job situations said that patient care was worse in an employed setting.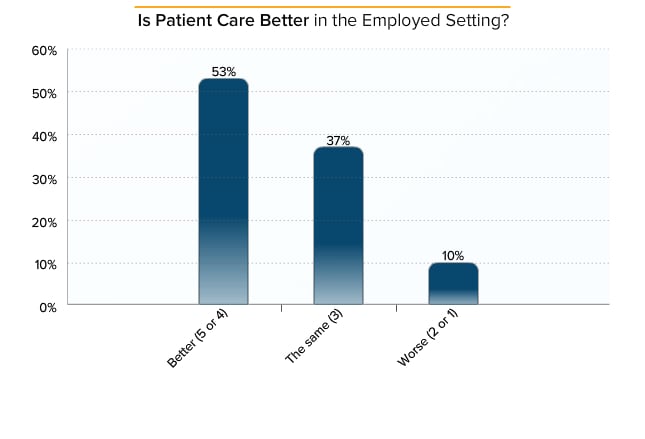 Money is part of the equation when it comes to career satisfaction. In recent years, physicians have become more dissatisfied with their earnings.
In the case of employed doctors, 49% of doctors were satisfied with their incomes while 22% were unsatisfied. Satisfaction did not necessarily reflect the amount of income but perhaps included factors such as how many hours the doctor had to work for that income and the stress involved.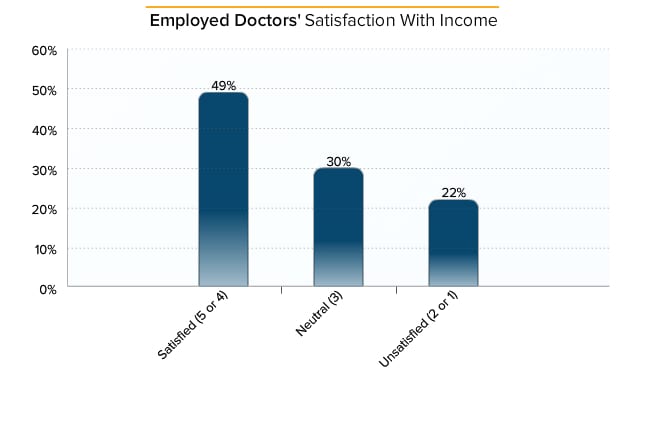 Almost half of physicians (46%) said their satisfaction with their income increased when they went from being self-employed to being employed; for about another quarter (27%), satisfaction remained the same; and for just over a quarter (26%), satisfaction declined.
Satisfaction could reflect either higher income, more regular income, or the fact that doctors had to do less work for the same income. If a physician is working fewer hours in order to attain that income, satisfaction could have increased.
"Employed primary care doctors often earn more than self-employed primary care doctors," says Tommy Bohannon of Merritt Hawkins. "It's due to lack of subsidization. In every setting, usually the entity doing the employing is doing it not because they're going to make money on the primary care doctor's practice, but because the practice is an entry point to the health system. The employers feel that it's okay if the left hand is losing money because the right hand makes it up, and so frequently they will pay a little more."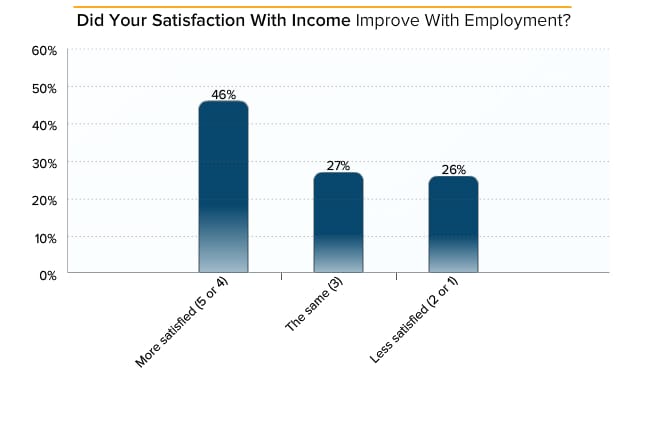 The most common salary arrangement for employed doctors is straight salary, which accounts for about 46% of physicians' employment arrangements.
Increasingly, though, physicians have to meet productivity targets or a salary-plus-productivity formula. "Salary plus bonus is very common," says Bohannon. "We expect payment trends to be RVU [Relative Value Units] based as far as incentive bonus; we also just started tracking quality bonus, and I expect that that quality piece will grow."
A smaller percentage of physicians have a more complex arrangement, which includes a bonus ladder above the salary and productivity targets. Some other payment methodologies include: base salary plus yearly bonus; base salary plus overtime after 40 hours per week; and compensation plus a percentage of collections.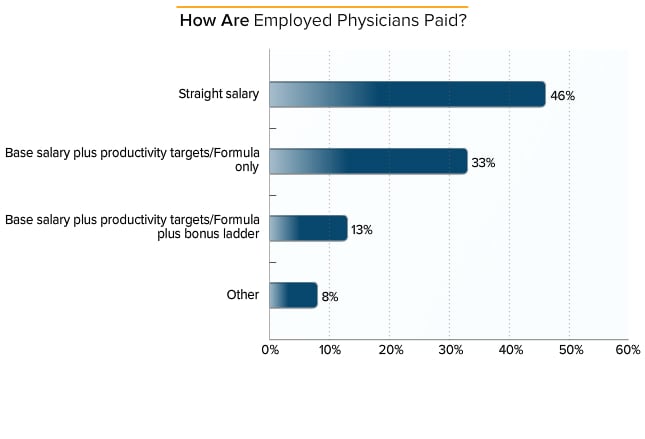 How burdensome are productivity targets for doctors who have them? More than a third of physicians with productivity targets expressed satisfaction with them; in fact, 39% said they were satisfied with their productivity targets, which includes 8% who said they were very satisfied. Another third (33%) said they felt neutral about the productivity targets, and just over a quarter (27%) were unsatisfied. Among those 27% who were unsatisfied, 18% were not satisfied, and 9% were very unsatisfied.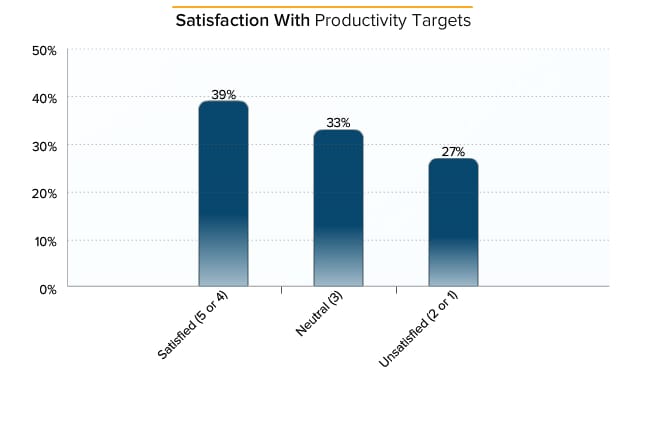 A good work-life balance is usually a benefit of employment, and most doctors appreciate it. Work hours are typically somewhat shorter and more regular for employed doctors than for self-employed doctors.
About 54% of employed physicians were satisfied with their work-life balance; more than a fifth (21%) thought their work-life balance was very good and another 33% thought it was good. Years ago, many doctors were more willing to devote the bulk of their waking hours to medicine, but that attitude is less prevalent today. Work-life balance is an increasingly important factor in career satisfaction, especially for younger physicians.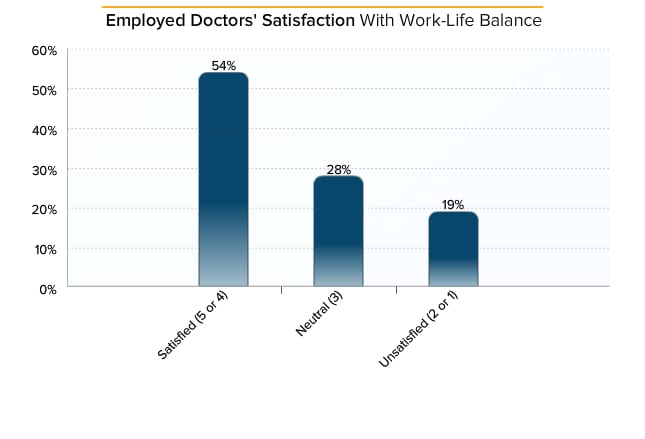 Not having to spend time on paperwork or business concerns was a plus for physicians who switched to employment. Apparently, many who became employed breathed a sigh of relief over having more free time. More than half of formerly self-employed respondents (56%) said their work-life balance definitely improved after they changed to employment.
In particular, 23% said the work-life balance became much better after becoming employed, and another 33% said it was better. For about 29% of respondents, the work-life balance remained the same, and it became worse for 15%.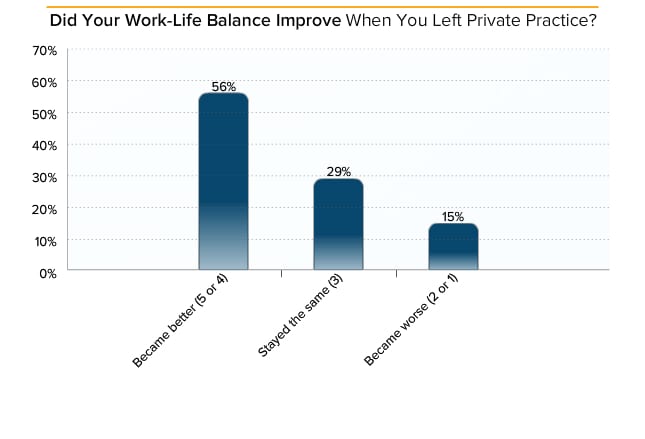 Employed primary care physicians often have daily patient quotas. In fact, 59% said they do have quotas, while 41% do not. The most common quota was 16-20 patients per day, followed by 21-25 patients per day and 10-15 patients per day.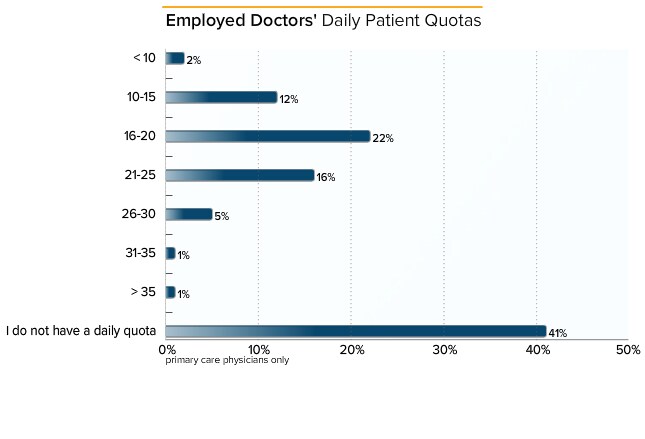 Night call is a "necessary burden" of medicine. Primary care doctors accept night call as a fact of life of being a physician, but that doesn't mean that anyone enjoys it. It's not surprising, then, that having less night call volume as an employed physician is something that employed doctors typically appreciate.
While 30% of employed primary care doctors have no night calls, 33% have night calls 1-4 times per month. Another 21% have night call duty 5-8 times per month.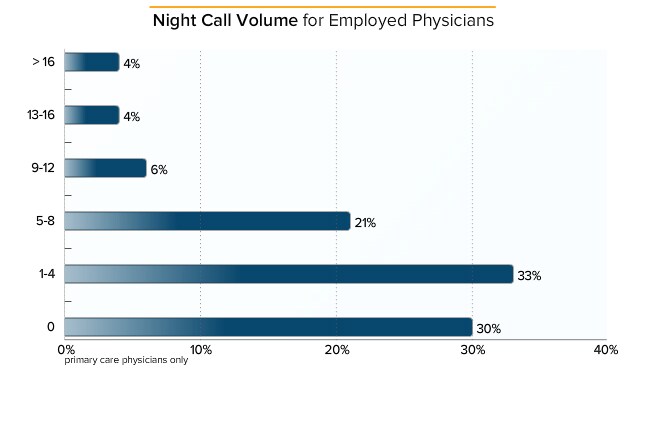 As expected, 55% of employed doctors have either lower or much lower night call volume than when they were self-employed. For about a third of physicians, there was no difference in volume of night calls between being employed or self-employed. Only about 13% of employed physicians have more night calls than when they were self-employed.
One possible reason for the lower volume is that employed doctors are more likely to be in larger practices or groups vs self-employed doctors, so there are more physicians to share night call duty.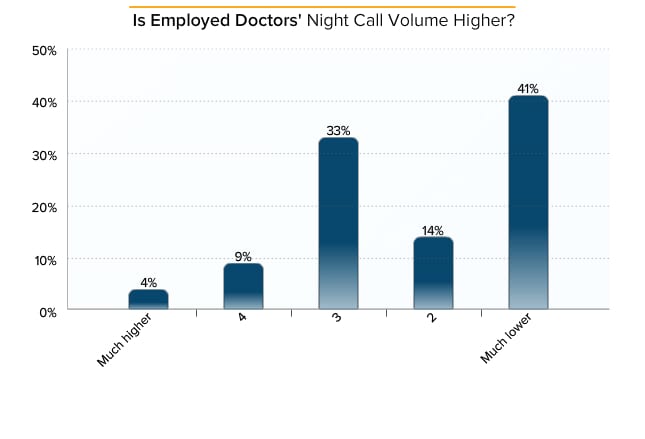 The phrase "herding cats" is often applied to doctors because doctors are known for having a strong independent streak. So how does that fit with having to adapt to an organization and having more bosses and more rules when employed?
Less than 50% of employed respondents were satisfied with their degree of autonomy, while about a quarter were neutral and another quarter were unsatisfied. Rules about how to practice medicine, procedures to follow, and requirements for reporting made many doctors feel a loss of autonomy. While self-employed doctors may sometimes have the final word in practice decisions, many employed doctors felt that they did not.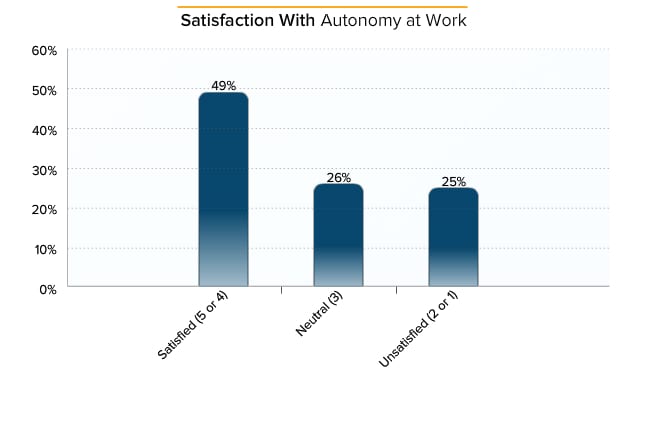 A large percentage of employed physicians do feel that their opinions are considered important and valuable, and that management takes pains to communicate with them.
Bohannon believes that loss of autonomy is likely to improve over time. "Employers are very aware of that dynamic, and they go to greater lengths than ever before to make doctors feel that they are participating in decisions," he says.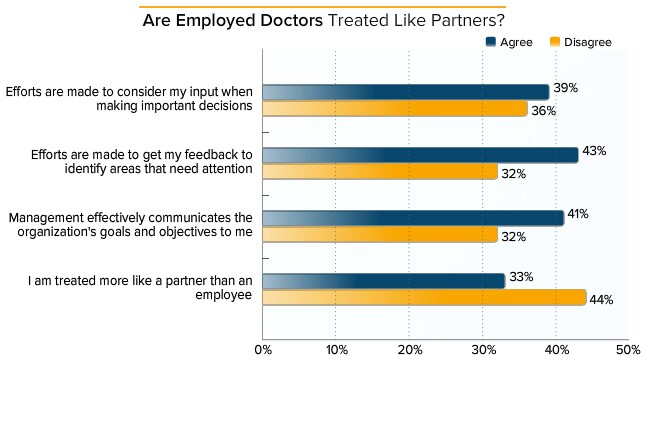 Changing jobs is a big decision; it involves risk and may also require relocation, among many other major factors. The majority of physicians are planning to stay put. About 11% are definitely planning to make a change, either to another locale or back to self-employment. And while about 38% say that they may change their job situation at some point, it's possible that they will make peace with it and remain where they are.